Description
"Dream Big Little One" Zip-Up Hoodie
An adorably inspirational hoodie with an ambitious little crocodile floating above a sleepy town in a hot air balloon that symbolizes endless possibilities!
Front & Back design – continuous and perfectly joined patterns
Pockets and a comfy drawstring finish
Material: a quality blend of 30% cotton, 64% Polyester, and 6% Elastane
Durable! Reinforced seams and non-fading colours due to cutting edge dye-sublimation technology
Eco-friendly and sustainable fashion – production and materials, produced in a fair employment environment, complying with ILO standards
Made to order! We believe in looking after the environment, and adhere to "slow fashion" philosophy. No wasting textile, no bulk creation of low-quality items and no unnecessary energy consumption
Vibrant, quality and durable overprint using unique and advanced technology
100% unisex, looks wonderful on girls and boys
Made in EU (designed, sewed, printed), and shipped worldwide
Wash inside-out at 30 degrees
Sizes
Sizes are available for ages 4 years to 12 years approx. Seeing as every child is different – please pay attention to clothes measurements below rather than age.
Below you can find the following measurements in cm, based on the child's height
A = Garment length, B = Chest width, C = Sleeve length
The table below show you the measurement of the garment as it is, measured flat (not on the body)
We recommend using an existing piece of clothing at home to measure, compare and estimate if you are unsure about what size to take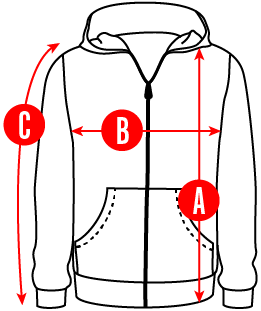 Age & Height Range

4-6 YEARS

(110-116CM)

6-8 YEARS

(122-128CM)

8-10 YEARS

(134-140CM)

10-12 YEARS

(146-152CM)

A – LENGTH

48

51

54

57

B – CHEST WIDTH

35

37

39

41

C – SLEEVE LENGTH

40

45

50

55
Order Processing & Delivery
We believe in eco-friendly fashion and do everything we can do avoid waste of fabric and energy. Therefore, items are made to order. This means that delivery time will take slightly longer. However, great things are worth waiting for! 
It is up to you to supply full and accurate delivery address details
From the moment you place an order, we will produce the garment and send it out after maximum 7 days
Once we send out a delivery, it will take 5-7 business days maximum within Europe, and slightly longer than that internationally
For any question or help with your order, you can contact us any time and we'll be glad to help